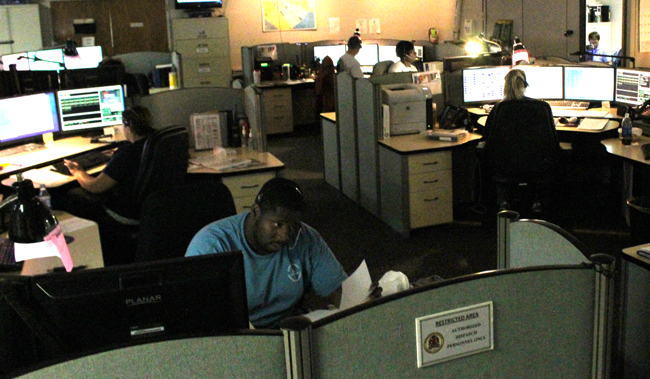 Florence County 9-1-1 also known as Central Dispatch to our emergency response personnel is the communications hub for Florence County's Emergency services network. Our communications personnel perform dual roles handling call-taking responsibilities as well as dispatching emergency response personnel.

We dispatch for 25 different emergency Services organizations within Florence County, there are 10 law enforcement agencies, 11 Fire Departments, 1 countywide Emergency Medical Service and 3 transporting rescue squads.
 
Law Enforcement; Florence County Sheriff's Office, Florence, Timmonsville, Johnsonville, Pamplico, Lake City, Scranton, Olanta, Quinby, Coward, Florence Regional Airport Police Departments and Francis Marion University Public Safety.

Fire Departments; Florence City Fire, Hanna-Salem-Friendfield Fire, Howe Springs Fire, Johnsonville Fire, Lake City Fire, Olanta Fire, South Lynches Fire, Sardis-Timmonsville Fire, Timmonsville Fire, West Florence Fire, Windy Hill Fire;
EMS/Rescue; Florence County EMS, Timmonsville Rescue Squad, Johnsonville Rescue Squad and Pamplico Rescue Squad.

On average we dispatch 165,856 calls per year to all of our emergency services. When broken down by service the average totals are:

Law Enforcement - 135,851,   Medical – 20,985,  Fire 8,163
                                                                                                              
Florence County 9-1-1 receives an average of 367,000 calls per year. That is around 995 calls per day and 41 calls per hour. Out of those calls, on average, 151,000 of them are E-9-1-1 calls. The remainder of the calls are either non-emergency calls, such as a fender-binder with no injuries, or administrative calls from law enforcement, fire or EMS personal requesting information.

*** All statistics are averages from 2010-2014***
To see a full break down of the statistics click here