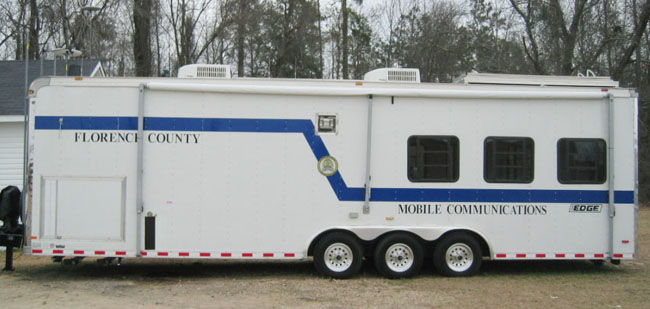 The Mobile Communications Trailer was developed to support all of Florence County Public Safety Agencies. The unit has the ability to respond and provide Communications support to any emergency operation. Request for activation should be made through Florence County Central Dispatch.
The Command Post is a 30 foot Haulmark Trailer. This unit is powered by a 10 KW Diesel Generator and can operate for up to 36 hours without the need to refuel. Florence County Emergency Management and Florence County Public Works both have the ability to deliver fuel to the Command Post if extended deployment is necessary.
This unit provides the following for the incident commander: • Climate control area for work meetings & planning. (2- HVAC Units)
• On board rest room facilities.
• Nine radio console workstations. (6- 800 MHz, 2- VHF, & 1-UHF) All radio stations are headset equipped.
• On board portable 800 MHz Repeater for local site access.
• Specialty radio access. (FBI, DNR, SLED, State Hwy Pat, & Aircraft)
• Multi-unit chargers for every type of walky-talky in service with the Florence County Radio System.
• Five-line cellular telephone network, that allows for conference calls to multiple numbers.
• Satellite telephone system connected with the State Emergency Operations Center and the Florence County Emergency Operations Center.
• Two Computers with on board high speed I-net access, Print, Copy, Scan and Fax.
• Computer Software programs for Chemical Identification & Response, Aerial Maps, Alpha Paging, E-mail access.
• Refrigerated bottle water.
• Roof top observation deck.
• The Command Post is equipped with two 25-foot awnings to provide shelter for the first responders during rehab situations or briefings.
• Chairs and tables for additional work areas.
• Weather station.
• Television for local access.
• Remote camera access.