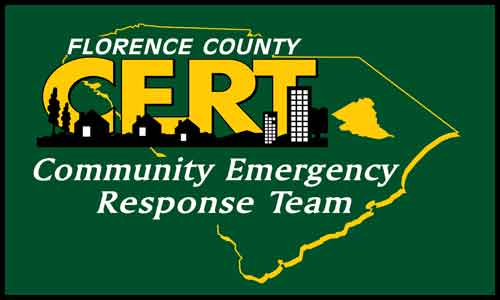 The Community Emergency Response Team (CERT) program is an official emergency preparedness program of the Federal Emergency Management Agency (FEMA).  The CERT concept was originally developed and implemented by the Los Angeles Fire Department in 1985. The need was recognized following a series of earthquakes in both the U.S. and Mexico that left hundreds dead, injured and without emergency services.  By 1993, thousands of residents had been trained in the United States and Canada. The CERT program nationwide is supported and assisted by FEMA's Emergency Management Institute (EMI) in Emmitsburg, Maryland.
Florence County Emergency Management recognized a need for our community to be better prepared in the case of a natural or manmade disaster and because of this need developed a CERT program. The Florence County Sheriff's Office, Florence County Emergency Medical Services and Florence County Fire Chief's Association also recognized this need and partnered with Emergency Management to implement the Florence County CERT in 2016.
The primary purpose of the Florence County CERT will be to help their communities until first responders arrive. Additionally trained CERT members may volunteer to support Florence County Public Safety agencies during a disaster response.